POSTER ASSIGNMENTS. Find your poster number, time, and date.
» .pdf | .xls | .csv
POSTERS MAP. Find your poster location. » 120 KB pdf
SETUP. Access for exhibit and poster setup will be available:
» Sunday, October 7, 12:00–18:00
» Monday, October 8, starting at 08:00
TAKEDOWN. All posters must be removed on Thursday, October 11, by 13:00
Any remaining posters will be stored at the registration counter,
but will be recycled if not collected by 16:00 on Friday.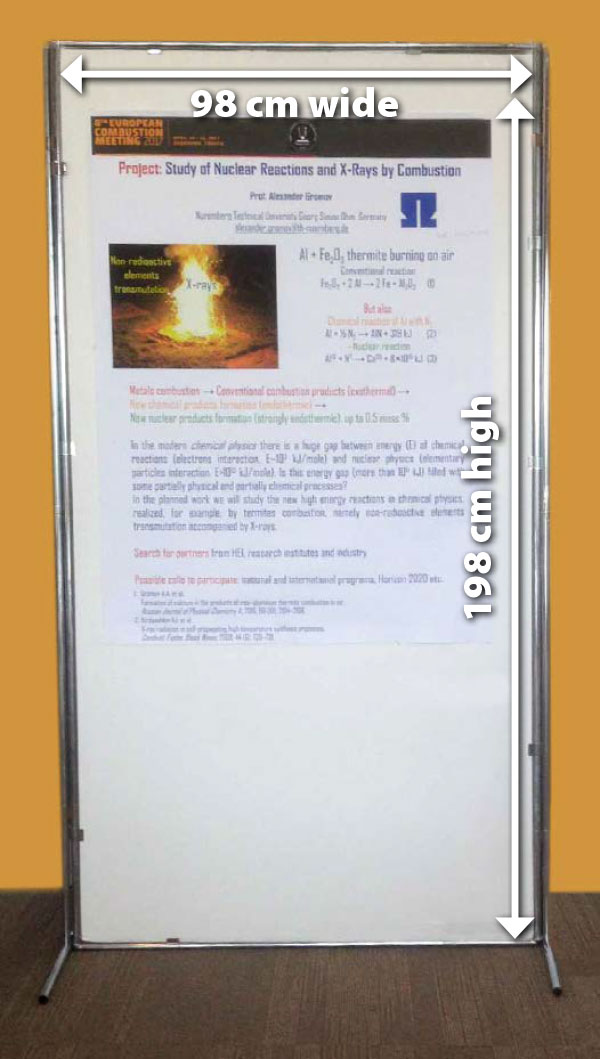 DIMENSIONS. All posters will be mounted vertically, and the maximum size of finished posters must not exceed 98 cm wide × 198 cm high in order to fit within the usable area of the poster stand. Posters printed in sizes A0 and B1 in portrait orientation can fit easily on the board. Please note, these poster stands sit directly on the floor, as shown in the photograph to the left.
MOUNTING. Adhesive squares (Patafax) will be available on site to mount posters to the poster stand. A poster number ID card (14 cm high x 22 cm wide) will be mounted on the display area of each poster board. You may temporarily remove this card and affix it on top of your poster in the upper right corner, if desired. 
PRESENTING YOUR POSTER. Presenters are required to stand by their poster, and be available for questions and discussion with conference participants for at least one hour during their assigned poster session. The poster sessions provide an extremely valuable opportunity to discuss your results and ideas with colleagues. We realize, though, that you may not always have the opportunity to connect with colleagues interested in your poster during a busy session. To remedy this, a card where you can write details about additional times you will attend your poster will be provided.
PREPARATION TIPS. Posters should be prepared with clarity in mind, using easy to read fonts and font sizes, with a title that will be easily visible from 6–7 m away. Text should be kept to a minimum, and the main messages and conclusions conspicuously presented. Please avoid the use of red on green and vice versa to ensure that conference participants with difficulty differentiating between these colors are able to read all poster content. The Oceanography Society provides an excellent guide titled Scientifically Speaking which provides advice on preparing both poster and oral presentations that can be accessed here.
DUBROVNIK PRINTING SERVICE
AB GRAFIKA
Address: Ulica Nikole Tesle 2, RK Minčeta, 20000, Dubrovnik, Croatia
Phone: +385 20 358 565
Email: info@abgrafika.hr
Open Hours
Mon–Fri: 08:00–18:00
Saturday: 08:00–14:00
Sunday: Closed
Submission Process
File format: PDF or JPEG, resolution 300 dpi
File name: Ocean_Optics_Last (Family)_Name
(it is very important to name the file as directed above so that it can be located in the system and printed on time)
Email file to: info@abgrafika.hr
Due date: Submit file as early as possible, but before October 5, 2018
Payment: Due upon pick up of poster by credit card or cash
Costs
Estimated prices for the following standard sizes are below:
85,00 kuna: B1 size (70.7 cm wide x 100 cm high)
160,00 kuna: A0 size (84.1 cm wide x 118.9 cm high)
VAT is included in the price. Inquire with AB Grafika for questions regarding other sizes.
Notes
Due to the anticipated large number of requests, submit poster files as early possible. and remember that posters must be picked up on Saturday, October 6, or Monday morning, October 8.